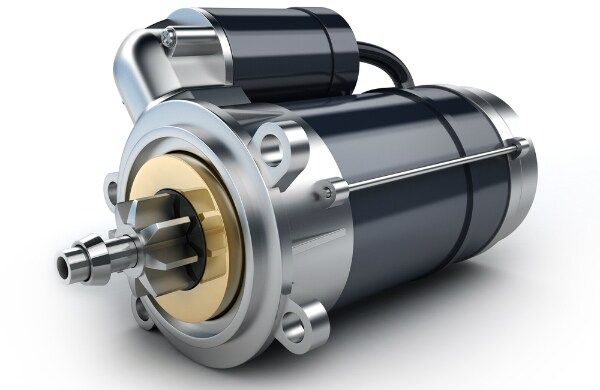 From the moment you turn on your vehicle to the second you turn it off, you're depending on a complex machine to get you from point A to point B. It all begins with the starter. From harnessing the power of your vehicle's battery to using its independent motor to crank the engine to life, your starter plays a crucial role in getting you on the road! If it needs to be replaced, it's possible to do it yourself. Since this process is moderately difficult, we think it's advisable that you have some auto repair experience before taking on this project yourself. Our Jeep service center in Lima always recommends safety measures, so be sure to wear the proper equipment, starting with safety glasses!
Steps for Changing a Starter
**NOTE: you will need two people for this process!
Park your vehicle on a solid, level surface and set the parking brake.
Locate the starter, which is attached to the transmission bell housing. You may need to work underneath the vehicle to do this.
Ensure that you have the radio security code before disconnecting the negative battery cable. This isn't necessary on all vehicles, but some require the radio security code after any maintenance is done that requires disconnecting the battery.
Disconnect the negative battery cable, wrap the end with a towel, and put it down away from the battery post.
Mark the starter electrical wires for reference later on, and then remove them.
Remove the starter mounting bolts and the starter. Be sure to compare your replacement starter with the one you're removing to ensure that you have the correct part. Nothing is worse than installing the wrong one!
Use a flashlight to inspect the flywheel teeth (visible through the opening in the bell housing) while someone else turns the engine over by hand. If any teeth are missing or damaged, the flywheel should be replaced.
Install the new starter and mounting bolts. Tighten the mounting bolts to meet the specifications put forth by the manufacturers.
Reconnect the electrical wires and negative battery cable to the new starter.
Start your vehicle to make sure it worked.
There you have it! You've successfully replaced your starter. If you're not too comfortable doing this yourself, you can always contact Tom Ahl Chrysler Dodge Jeep RAM Fiat at (888) 377-0695. As your leader in service, we can take care of this or any of your major car needs!