If you're a first-time truck owner, the idea of towing can be a bit intimidating. You may not know all that influences your towing capacity, payload, and power. Our RAM dealership is happy to break down the important components that influence Fort Wayne area driver's towing abilities. Below, you will learn about everything factor that can affect your driving and what you throw behind the pickup!
How to Load Your Cargo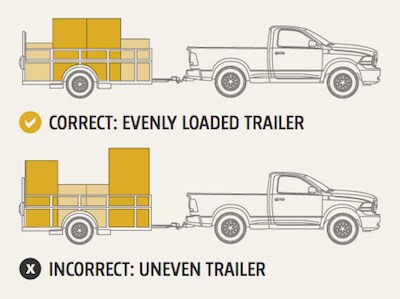 In order to tow safety, you need to properly load up your cargo. Uneven trailer weight can cause problems with steering, braking, and sway control.
As a rule of thumb, 60% of your cargo weight should be loaded in the front half of your trailer and 40% in the rea half. When loading cargo, you'll want to balance it evenly side-to-side, allowing the center of gravity to be low to the ground and over the trailer axles.
After the cargo is properly balanced, you'll need to secure it in place. Unsecured cargo can shift while the vehicle is in motion, making the trailer unstable. For this job, nylon rope or towing straps can tie everything down.
How to Drive With a Trailer
If this is your first time driving a trailer, we encourage you to practice in an empty parking lot before hitting the open road. Remember these pointers when you're finally on the main drive.
Maintain Control
If you feel the trailer begin to sway or whip, take your foot off the gas pedal. Do not brake or speed up.
The Longer the Trailer, the Wider the Turn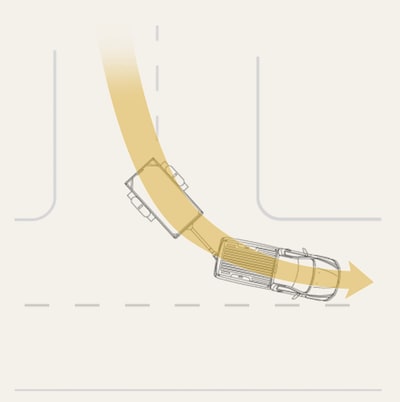 Swing wide while turning and double check your mirrors to be sure your trailer clears all obstacles.
Passing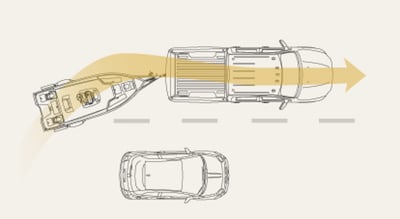 As the law states, only pass when necessary. Continue to obey all state laws and remember to account for your trailer length when passing a slower vehicle. Check that you've cleared the other car before going back to your lane. The extra trailer weight will also make acceleration slower. Do not forget to use your turn signals and allow for plenty of clearance.
Uneven Terrain
Slow down anytime going downhill. For those trucks that utilize manual transmission, downshift when going uphill and downhill.
Bring a Full-Size Spare
Never use a compact spare tire when towing a trailer.
How to Back Up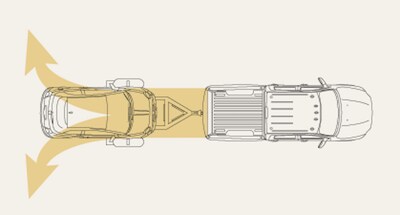 Start by putting your hands at the bottom of the steering wheel. If you want to turn left, move your hand left. Want the truck to move right? Move your hands to the right. Adjust the direction little by little. Slight turns of the steering wheel translate into greater movement from the trailer.
If the pickup begins jackknifing, simply pull it forward and straighten it out and try again. It can take some time getting used to backing up, so take it slow. It's always helpful to have someone behind the trailer to spot you.
How to Park
Always park on a leveled, flat surface. It's best if you pick a spot when you can pull out forward, and not back out of a parking spot. Make sure you apply your parking brake and use chock blocks on your trailer wheels.
Stay Alert
Accelerating, changing lanes, and braking can take longer when towing a trailer. Look further down the road to be sure you avoid any problems.
If you have any questions about towing a trailer or need the right supplies for the job, please contact us at (888) 608-3472.