You made the decision that you want a new RAM truck to drive around Lima. You made the right choice as you are guaranteed the incredible power, aggressive styling, and traditional quality that is never compromised with a RAM. However, before you pick a truck, we'll review some important things of the RAM series so that you can definitively understand which is the perfect pickup for you.
How Much Truck Do You Need?
The most important quality of a truck is its capability. It matters if you plan on towing five tons or 15. There are two types of trucks.
Light Duty Truck: The light-duty truck is a perfect combination of power and efficiency. For those in Lima or near Delphos plan on towing boats, ATVs or trailers, the RAM 1500 is a great truck for you.
Up to 1,900 lbs of gas payload
10,640 maximum conventional gas towing
Heavy Duty Trucks:
When the job requires more weight to tow, then you should opt for a heavy-duty pickup. The RAM 2500 and 3500 work effortlessly towing construction equipment, heavy commercial loads, or recreational towing (horse trailer or an RV). You can refer to the 2500 and 3500 for this capability.
Up to 7,390 lbs. of max gas payload
31,210 maximum conventional diesel towing
How Can You Pick an Axle Ratio?
Finding the ideal axle ratio can be a compromise. For a higher axle ratio, this gives you more towing power and quicker acceleration. If you choose a lower ratio, it gives you better engine efficiency and quieter vehicle operation. There is a variety of axles RAM trucks come in. You can talk to our Lima dealership's sale staff to understand which one is more important for the Delphos area.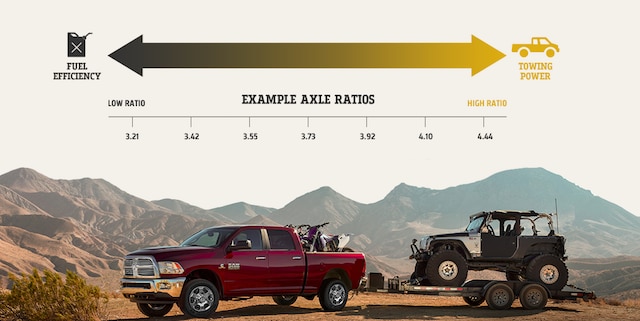 What Does Everything Weigh?
It's a good idea to know your Gross Combined Vehicle Weight because it can indicate how much capability you'll need. However, you need to account for everything including:
Curb Weight
Cargo Weight
Passenger Weight
Trailer Cargo
Trailer Weight
Max Payload vs Max Towing?
Some first-time truck buyers don't realize towing and payload weights affect each other. If you're carrying a heavy payload, make sure the trailer load is lightened, or vice versa!
Which Features Affect Towing?
Simply put: the way your truck is built can affect what it can do. Cab size, box length, wheel drive, and transmission are influencers to how your truck can tow and haul. For instance, a regular cab can seat up to three passengers, which maximizes towing and payload. On the other hand, the Crew Cab can have six passengers with plenty of legroom, but focuses on passengers comfort more which adds to the truck's curb weight.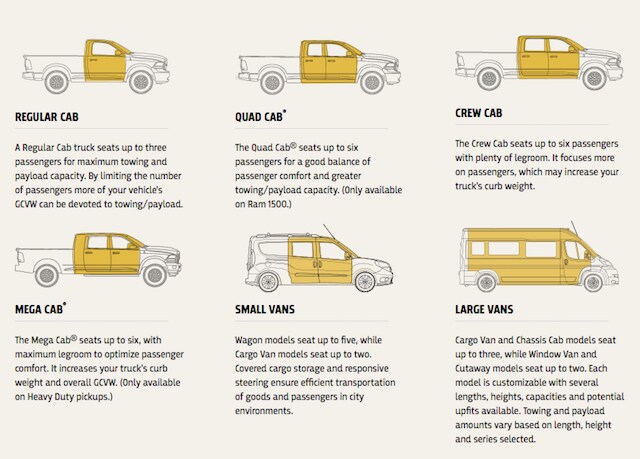 Visit Our Lima RAM Dealer
If you are still unsure the specifics you're looking for in your truck, please come down to Tom Ahl Chrysler Dodge Jeep RAM FIAT to have your questions answered. You can also contact us at (888) 429-2129.