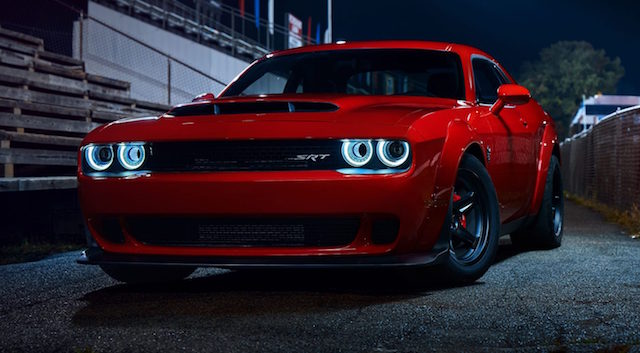 The Dodge Challenger SRT Demon has been the highlight of the automotive world because of its record-breaking 840 horsepower, 770 lb-ft of torque, and 9.65 seconds from 0-140 mph. Underneath the dominant hood, drivers will find 6.2L HEMI® Demon V-8 engine, making it the most powerful muscle car ever. It recently won the award for Roadshow Driveline Technology of the Year Award by CNET! The Demon maintains the traditional 2018 Dodge Challenger frame that so many Delphos area shoppers recognize. However, this beast-like coupe includes plenty of first-ever systems and features a Guinness World Record!In the Challenger Demon, some highlights are:
Air-Grabber™ induction system includes the largest functional hood scoop (45.2 square inches) of any production car
First-ever, factory-production car with TransBrake combined with Torque Reserve, to deliver the highest g-force acceleration of any production car
Bilstein Adaptive Damping shocks have been tuned for drag racing, shifting as much weight as possible on the rear tires at launch for maximum traction.
Award-winning and factory production car first SRT Power Chiller™ redirects air conditioning refrigerant to help cool compressed air entering the supercharged Demon V-8 engine
First production car to produce a front-wheel lift as certified by Guinness World Records
"We saw some amazing innovations on the powertrain front this year, and this was a hotly contested category, but in the end, the Roadshow team couldn't resist the lure of the Demon," said Tim Stevens, editor-in-chief of Roadshow by CNET. "The power output is of course phenomenal, but it's the extent of the technology that really impressed us, like ducting the air conditioning to chill the intake air. It's a hell of a package."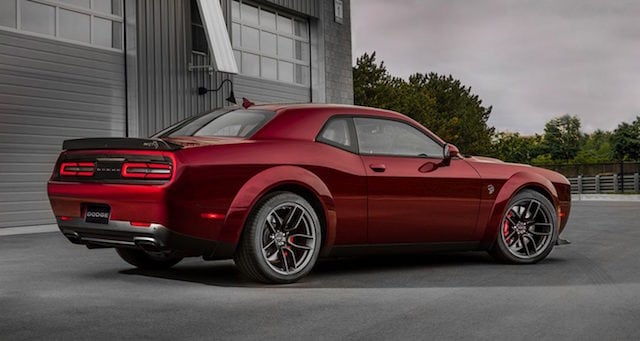 Test Drive the Dodge Challenger Near Delphos
While it may be hard to get your hands on the Challenger Demon, we are here to offer the next best thing: the Challenger itself! From the SXT trim to the Hellcat, you will find a beautiful and aggressive muscle car that can reach up to 707 horsepower! Moreover, you'll find advancements in these rides like 8.4-inch UConnect®, available all-wheel drive, rearview camera, and much more. No matter which model you prefer, our Delphos area Dodge finance department is here to assist you in getting the best payment plan possible.
Even though it's a two-door coupe, passengers will be surprised how roomy this muscle car is! Plus, with optional leather upholstery that can be heated/ventilated in the front, you will be comfortable at all times. If you're interested in scheduling a test drive with the 2018 Dodge Challenger, please contact us at (888) 608-3472.