Dodge has created its most sinister car yet. Meet the 2018 Dodge Challenger SRT Demon, the fastest production vehicle ever made. This isn't just another Hellcat; this monster has been installed with a supercharged 6.2-liter HEMI® Demon V-8 engine, making it the most powerful muscle car ever. Dodge is always hungry to innovate and create new vehicles that set new standards, even break records. The Demon breaks almost every record, including:
Highest horsepower and torque in an muscle-car:

840-horsepower and 770 lbs-ft of torque

World's fastest 0-60 production car: 2.3 seconds
World's fastest quarter-mile production: an elapsed time of 9.65 seconds
First-ever front-wheel lift in production vehicle: 2.92 feet certified by Guinness World Records
First-ever, factory production vehicle with Torque Reverse for higher levels of power and torque at launch
"With Demon, our goal was to build a car that would tattoo the Dodge logo into the subconscious of the general market, beyond even our loyal enthusiasts," said Tim Kuniskis, Head of Passenger Cars Dodge, SRT, Chrysler, FIAT, and FCA North America, "To do so, we had to set records that have never been set before, do more than has ever been done before, go beyond even the legendary Hellcat. The result: an 840-horsepower, 9-second muscle car, unlike anything that has ever come before it."
After the National Hot Rod Association saw the Demon's performance on the drag strip, it banned the muscle car from street racing. Does Dodge feel ashamed? Absolutely not. Instead, it takes the ban from NHRA as a badge of honor. Until the Demon hits the market, Fort Wayne area drivers will find their fix with the 2017 Dodge Challenger.
Dodge Challenger Allures Fort Wayne Area Shoppers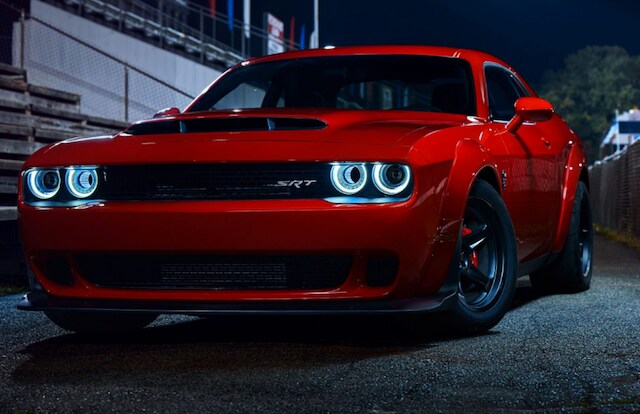 The devil is in the details, so to speak. Dodge engineered the Demon with wider street-legal drag radials to improve its grip and for a strong launch force. Our Dodge dealership near Fort Wayne knows drivers will be amazed by the ground-breaking SRT Power Chiller™, where the air conditioner redirects refrigerant to cool down the charger air cooler. Flip on Drag Mode suspension tuning to increase weight transfer to the rear wheels for excellent traction.
Only 3,000 models will be sold in the U.S for one year. Will you be riding one of them? To learn how you can own the Demon,
contact us
at (888) 429-2129.